Applications: ARV Applied to Financial Markets



Connections Through Time - Issue 23: June - December 2004

A 60.7% Success Rate was achieved for a 2 photo-choice ARV financial application involving over 900 trials.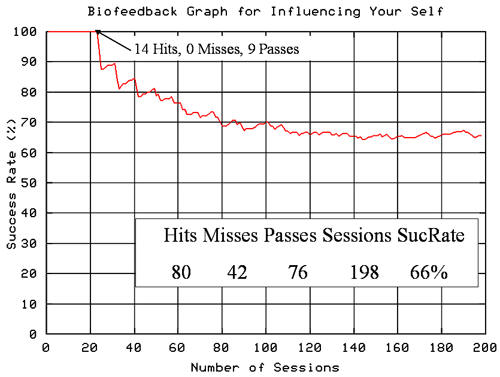 Success Rate Graph for Viewer with 198 Sessions (2 photo-choices were used, so chance would predict a 50% success rate.)
Associative Remote Viewing (ARV), with two photo-choices, is being successfully applied to financial markets. The results obtained during a 17 month (Jan 2003 thru May 2004) period are summarized below:
926 Sessions
325 Hits
210 Misses
391 Passes
60.7% Success Rate
15 viewers participated, including one group of 5 viewers. Four of the viewers accounted for a total of 667 (72%) sessions, each performing over 100 sessions. Two examples of their Success Rate Graphs are shown at the right. (The success rate is the number of hits divided by the sum of the hits plus misses.)
The upper right graph shows that this viewer, actually a viewer-analyst team, maintained a 100% success rate for the first 23 sessions. The analyst is the person who predicts one of the two photo-choices as being the final actualized photo-target, or he/she declares a Pass. This team currently has a 66% success rate.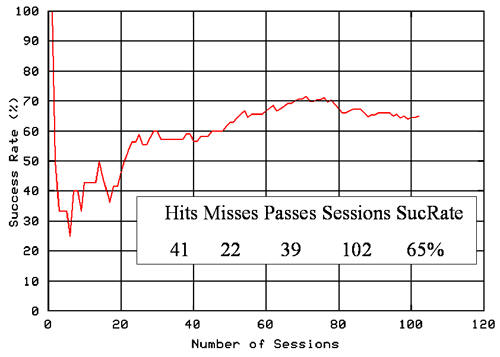 Success Rate Graph for Viewer with 102 Sessions
The lower right graph shows an initial decline for the first 8 sessions or so. This viewer-analyst team had a very different experience for their first 20 sessions! The recovery process was strong and this team currently has a 65% success rate. The psychological ups and downs of the long-term ARVing approach that we use in Protocol 8 provides challenges and many opportunities for personal growth for both the viewers and analysts.
The details of the ARV approach outlined here will be made available as part of ARV classes and workshops being organized by experienced teachers in the RV community.
Go to another section of this issue:
Physics:
Precognition Applications and Free Will
Intuition: Free Will and Determinism
Please email your comments to the editor, or use the contact link in the navigation rectangle at the top right of all our webpages.